To help women discern their life's calling, the Vocation team offers a monthly Emmaus discussion group on various topics around religious life and discernment. Topics have included "Keys to Discernment," "A Sister's Daily Life Schedule," "How to Decide Which Community Best Fits You," or "Common Fears When Discerning." Sometimes, we invite a sister to join us and to share her experience or perspective on a topic. This monthly group begins and ends with prayer and provides women with more information to discern and reflect with in a dialogue format with sisters and their peers.
The topic this October was community living. We talked about the blessings and challenges of living in a community with a multigenerational, multicultural, and multi-ministerial composition. Each vocation team member shared her varied experiences of community living along with pictures and stories.
My sharing focused on three hidden blessings that I have found when living my religious life in the Dominican Sisters of Peace:

First, a religious community is a community of faith that is different from other experiences of community living. We come to live together because we each have a great desire for intimacy with God, and a passion for mission. We share our reflections, life stories and experiences from readings, news, or from ministry—all in the context of living our faith and mission.  Most of the time, this sharing leads us to a deeper gratitude towards God and increases our passion for mission. It also adds to creating a reflective and contemplative atmosphere in how we live and do our ministry. Such an open atmosphere brings so much peace and joy to our life. We laugh a lot, even about little things, and we care for one another. We are women with young hearts of all ages! For me, inspiration and gratitude fill me each day.
Second, we don't just talk or discuss what is happening, but we dare to dream and envision what and how we need to respond to the needs of our times.  We may each have different views and perspectives on a topic or life issue, but we share our views in daily dialogue and, in so doing, we expand our understanding on that topic or issue.  Alone, we may only see one aspect of a topic like the six blind men who each describe one aspect of the elephant, as shown in the illustration here. But, when everyone's views are taken together, we gain a better understanding of what the elephant (or issue) looks like. In community living, a spiritual awakening can happen daily, creating opportunities for us to serve and respond to reality with fresh eyes. My heart has often danced with gratitude because of the wisdom we share with each other in our religious communities.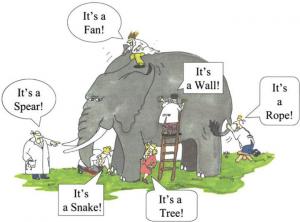 Third, wherever I live or go out for mission, I know that I have a support system behind me, praying for me, helping me to move forward. I can lean on their prayers. I also know that these are my sisters, whom I can trust and share at a deep level, who can share profound wisdom. This support gives me a strong motivation to move and stretch my wings, to dare to dream and envision possibilities, and to dare to step into an unknown future.  I must admit that without my sisters, I cannot be who I am today- a confident woman of faith. Before I entered the community, I was happy with my life, but I have found much more since I entered religious life.
You will find other blessings when living in a religious community. These blessings are abundant.  Why not explore what blessings God has in store for you? Contact us to begin this exploration of religious life.