Living in the heat of the Sonoran Desert in Arizona are the indigenous people of Tohono O'odham Nation. Families on the reservation reside in near-isolation. Long, winding dirt roads lead to homes with no street address. Travelers often have to create their own roads in order to find their destination.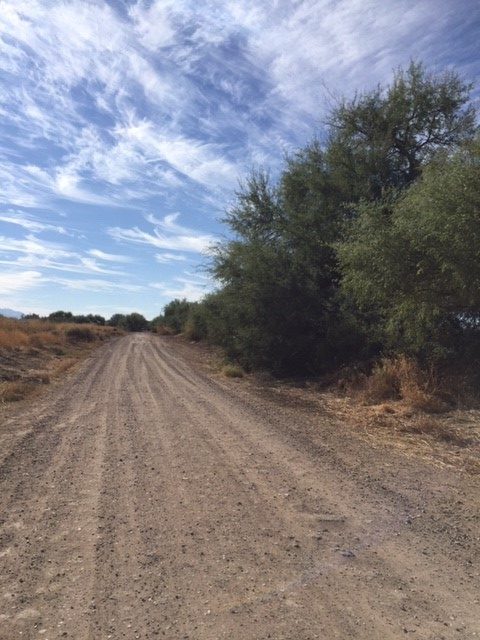 In such a vast and remote location, food insecurity is a major issue. The COVID-19 pandemic has heightened the problem, resulting in many deaths, including elders.
More than 11,000 members, about 85 percent of the reservation's population, are Catholic. About 40 villages have a church or chapel and the majority have Mass only once per month.
Through their strong faith, the Tohono O'odham rise to confront challenging situations. Prayers to address hunger were answered by Sr. Rachel Sena, a Dominican Sister of Peace serving San Xavier del Bac Mission in the Diocese of Tucson. Her ministry reaches the Tohono O'odham Nation in the Sonoran Desert.
A shining sister in the desert
Looking to help amidst the pandemic, Sr. Sena applied to Sisters on the Frontlines, an initiative which aims to give $1,000 to 1,000 women religious to help those most adversely affected by the pandemic. After receiving a grant from the program, Sr. Sena worked to help those who are struggling to put food on the table. She purchased 20 $50 gift cards for reservation families to use from two local grocery stores.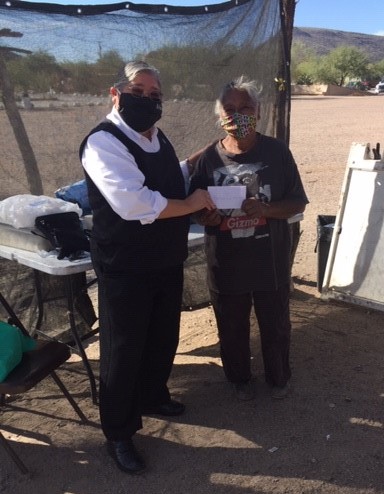 Life in this faith community on the border has many challenges. Residents face serious problems including high rates of suicide, gang activity, rising unemployment and drug trafficking.
Sr. Sena wanted to help as many people as she could. Now, she has made a difference in the lives of 20 families in need:
They never asked for assistance, because they trust in God's Providence. I am grateful that your gift brought smiles of gratitude."
The Tohono O'odham Nation's land base is nearly 5,000 square miles and straddles the United States-Mexico border west of Tucson. The size of Connecticut, it is the third largest Indian reservation in the country. It has one small town, Sells, which is the capital, and about 70 villages.
Navigating the long reservation roads, Sr. Sena delivered food gift cards. Each family is grateful and sends blessings of thanks to those that made this possible.
Sr. Sena is thankful she could help put meals on the table for Tohono O'odham families during the pandemic:
The Catholic Extension grant was an act of mercy and a refreshing drink from the wells of hope."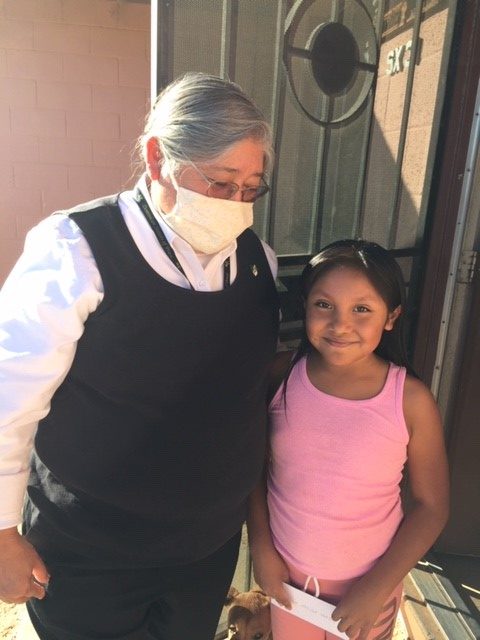 Thank you to our donors for providing food to struggling Native Americans in the Diocese of Tucson. As the pandemic continues, so does the Sisters on the Frontlines initiative. Contributions bring relief, joy and renewed faith to those so adversely affected.